Everlube Dry Film Lubricant Coatings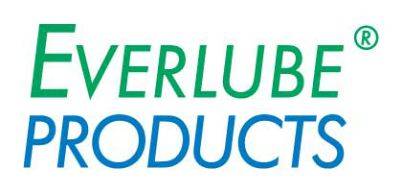 Everlube Dry Film Lubricant with PTFE Coatings
Everlube 6108 Dry Film Lubricant a very thin coating which provides both corrosion protection and reduces friction. Ideal for fasteners and other hardware where thickness matters. A phenolic system available in many colors, uses a PTFE coating as the lubricant.
The EMC-814 Process is a resin-bonded molybdenum disulfide and graphite dry-lubricant finish. Formerly known as Electrofilm, this coating is based on Lube-Lok® 5396. It is used primarily to reduce friction or prevent galling in high pressure applications and is often suggested for use where fluoropolymer coatings would normally fail due to extreme pressures (>20,000 psi). The EMC-814 Process is compatible with most solvents, oils, and hydraulic fluids.
The EMC-814 Process can be applied to most metals, including aluminum, steel, stainless steel, titanium, and nickel alloys. In circumstances where parts operate with very little clearance, burnishing of the cured film with steel wool or crocus cloth is suggested.
Orion has experience applying a wide range of Everlube coatings.
Everlube Industrial Coating Specifications
EM Lubricants which are in many specifications have been converted to or cross-reference Everlube® Products. These solid film lubricants are designed to lower the coefficient of friction. Depending upon your application, a lower coefficient of friction will tend to improve lubrication. In general, lubrication effectiveness can be defined by load carrying capacity, wear life, and the coefficient of friction. Our solid film lubricants can improve lubrication, which will help increase service life by reducing wear, energy consumption, break-in time and operating temperature. A better service life will minimize product failures, warranty issues and costs.
MORE