Industrial Coating Services for Chemical Processing Applications
Orion has successfully applied coatings for chemical processing equipment such as filter tanks, small vessels, valves, reactors and flanges piping for a wide range of manufacturers. These savage corrosive and high temperature environments are combated with a multi-coat industrial coating applications of one of many fluoropolymers such as PTFE coatings, Kynar®, Halar© ECTFE, and ETFE. To ensure optimal functionality, we focus on the preparation of the metal substrate prior to the application of the chemical resistant coatings, as it is the foundation of the coating adhesion necessary in these high stress environments.
Read our blog to learn more about Halar® ECTFE coatings for chemical processing.
Contact us today to speak with a sales engineer about your chemical processing coating project.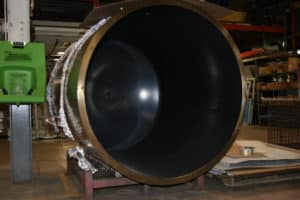 Chemical processing tank with fluoropolymer coating