What is Halar?
Halar® ECTFE, or ethylene chlorotrifluoroethylene, is a thermoplastic copolymer of ethylene and chlorotrifluoroethylene material. It is a semi-crystalline and melt processable fluoropolymer made by Solvay, a global chemicals company. Halar ECTFE coatings provide excellent chemical resistance and electrical insulating properties over a wide temperature range from Cryogenic to 150° C (300° F). It is one of the best coatings for impact resistance, as it is an exceptionally durable coating material.
Halar is best used in anti-corrosion applications because of its unique combination of properties, including:
Chemically inert
Chemical and corrosion resistance (pH 1-14)
Impact and abrasion resistance (Shore D 75)
Permeation resistance
Flame resistance
Dielectric strength
Ease in processing
Adhesion to substrates
Halar for Corrosion Protection – Common Industry Applications
Halar ECTFE coatings are primarily used in corrosion applications in the chemical process of paper and pulp, pharmaceutical, food processing and semiconductor industries. It is commonly used in applications where there are strong acids and strong bases at temperatures that other plastic coatings cannot withstand. Halar is not recommended for high alkaline applications.
By using Halar, you replace corrosion resistant metals that may be attached by the acid or bases, or are too costly to use. For example, you could save money by using less expensive cold-rolled steel with Halar instead of stainless steel.
Halar has seen immense success in the chemical processing industry as a coating material for universal corrosion protection. Typical Halar coating applications include:
Tank/vessel interiors
Reactors
Piping systems
Pumps/valves
Impellers/rotors
Agitators
Chemical hoods
Electroplating equipment
It can be used in metal pickling and plating tanks using chromic acid mixtures, in semiconductor work benches exposed to mineral acids and hydrogen peroxide mixtures, in the storage of concentrated sulfuric acid, and in the manufacture of sodium chlorate. The reliability and quality of Halar make it a solid choice for severe corrosion applications.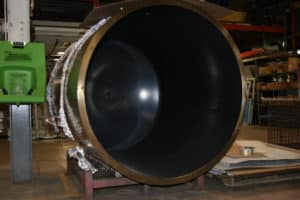 High Purity of Halar Coatings
Because of Halar's high purity and corrosion protection, it does not contribute to contamination or affect the quality of products being produced. The semiconductor industry uses Halar to meet its high purity requirements for its processing fluids. Biotech, pharmaceutical, and food processing industries use Halar because of its smooth, chemically inert surface after coating. In ultra-pure water applications, Halar ECTFE coatings can be highly effective, because it has lower biofilm growth as compared to electropolished stainless steel surfaces.
Chemical Resistance of Halar
Halar shows excellent chemical resistance and exceptional non-permeable barrier properties over a wide range of temperatures, as noted above. It is accepted and acknowledged as a top-performance coating for universal corrosion control and chemical resistance.
Halar is hydrophobic and virtually unaffected by most harsh chemicals commonly encountered in many industries. Halar ECTFE coatings are resistant to substances such as strong mineral and oxidizing acids, alkalis, metal etchants, liquid oxygen, and most organic solvents. It is stable to UV light and weather, and resistant to high energy radiation.
As with all fluoropolymers, Halar is attacked by metallic sodium and potassium. However, it is very resistant to sodium or potassium hydroxides, depending on exposure time and temperature. Halar can be affected by halogenated solvents, as are most fluoropolymers. It can become slightly plasticized by contact, but this effect does not normally impair its usefulness.
Applying Halar ECTFE Coatings
Halar coatings can be applied from 0.008" to 0.070" thick. Any coating thickness above 0.035" is considered a high build and takes additional processing steps to obtain that heavy of film build up. Halar is applied at cure temperatures of 482° to 554° F.
Stainless steel and carbon steel are the most common substrates that are coated with Halar. Other substrates such as copper, aluminum, titanium, glass, carbon, and ceramics have been coated effectively with Halar.
Halar offers the coating applicator the flexibility in overall application and thickness control. It is machinable after coating to allow for tight tolerance applications.
Although quite versatile, Halar is not suitable for all applications. We recommend testing the coating on test panels in the lab to see how the chemicals affect the coating, before coating your part on an actual piece of processing equipment.

Contact Orion for Your Halar Application
Orion Industries has successfully coated numerous components with Halar® ECTFE that are in operation in multiple industries around the world. Contact Orion Industries to discuss your Halar coating project or complete our Engineering Evaluation form