Orion's Cookware and Bakeware Refurbishment Services for the nonstick release surfaces of high-volume cooking and baking surfaces for commercial food processing lines provides renewed non-stick surface service life. Each type of cooking or baking device has somewhat different end use requirements. We provide a restored surface to provide long-term nonstick performance characteristics, using premium non-stick, food contact coating materials.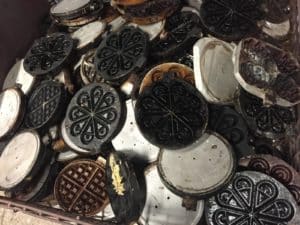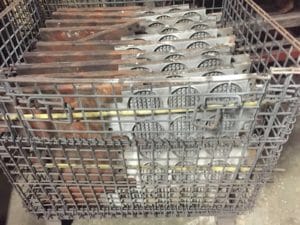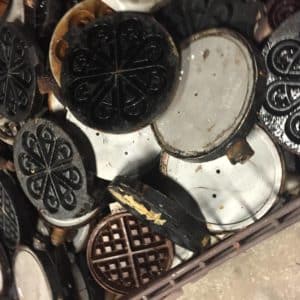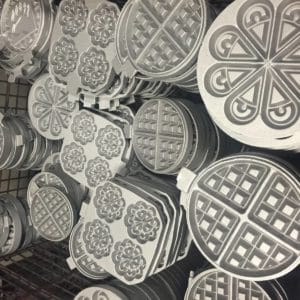 Our cookware and bakeware refurbishment starts with a careful removal of all food products and the entire original nonstick coating. Orion has perfected the coating removal process with automated machinery that creates the optimum clean, textured metal surface. We prevent over-roughening of the substrate due to excessive grit blasting. This closely controlled procedure maintains the substrate and maximizes the production life of your asset.
We then apply a premium grade, non-stick coating materials to restore the non-stick properties. Orion a licensed applicator of Chemours (formerly DuPont), PPG/Whitford Worldwide and other specialty coating manufacturers. All of the coatings we apply comply with FDA regulations in 21 CFR governing components of coatings for direct food contact when applied according to manufacturers' instructions.
Orion has nearly 60 years of experience with food contact coatings.
The result is a restoration process that maintains the life of our customers' process equipment as long as possible. Our coating surface renewal provides consistent and predictable service life.
Reliable and consistent turnaround of restored commercial surfaces is a primary focus at Orion Industries. Over the many years we have provided this service, we have invested and developed optimized equipment to remove and restore coatings. We can process hundreds of production line components per day. We have an extensive arsenal of cleaning and coating equipment with around-the-clock production staff. We provide the shortest turnaround cycle possible to keep your operation flowing smoothly by our well-trained staff. We stock an extensive inventory of fluoropolymer and Sol-gel coating materials to provide a reliable and consistent turnaround refurbishment service.
Chemours Teflon® finishes and PPG/Whitford nonstick technologies are two of the licenses for which Orion has been certified for many years.
Contact us to discuss your Cookware and Bakeware Refurbishment project with a technical consultant or complete our Engineering Evaluation form.