Non-Stick Coated Glass Bakeware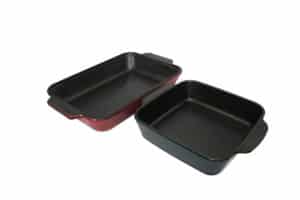 PTFE Coating Purposes for Glass Bakeware
Glass casserole dishes have a special baking quality for casseroles and other savory, yet sticky foods with cheese and all the other goodies that we love. Orion has perfected the bonding of non-stick PTFE coatings to both soda lime and borosilicate glass. After the successful bonding of the first industrial coating of pigmented PTFE, we apply a second black PTFE coating to provide the non-stick surface. Orion's PTFE coatings services include formulations in a dozen colors, including gold, silver, blue, red, etc, to provide not only easy clean PTFE non-stick coated glass baking containers in a wide range of beautiful colors.
Orion can make any coating Anti Microbial upon request.
Click here to view/download Orion's Anti Microbial Info Sheet.