FluoroDynamic® S Advanced Coating
If you are satisfied with your normal Teflon, Moly, Nylon, or EFTE coating on your solenoids, allow Orion Industries to show you what a really close tolerance applied coating can mean to your production tolerances and solenoid life. FluoroDynamic® S can maintain coating thickness tolerances +/-5 microns with the special patented machinery developed by the Dimension Bond Corporation. Very heavy films of up to .015" can be applied and can be post-machined or post-ground to precision tolerances in your shop or ours. Some applications benefit from this post-machining technology, and we have the proven systems to work with your staff to provide this service.
Advanced Coating Technology Service Proven To Extend Solenoid Life
Orion applied coatings can be applied as thin as .0003" to a maximum thickness of .015".
Through patented Dimension Bond technology metering equipment, we can actually hold tolerances of +/-5 microns on any solenoid plunger surface.
Avoid a finish grind (6 Micro) - FluoroDynamic® S coating will smooth out a rough grand (30 Micro).
For ultra high-wear applications, the proven Dimension Bond composites L9, L21, and L23 are guaranteed to outwear and outlast and coating.
Replacing nickel and hard chrome is easy with this new composite technology. Test it yourself!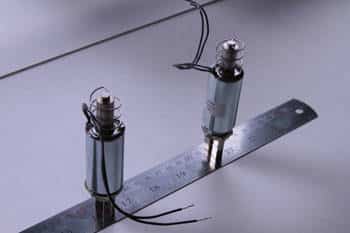 MYTH: Nickel or chrome plating is the best choice due to their high Rockwell hardness.
FACT: Our customers have found that the Dimension Bond composite materials, although they have a lower Rockwell hardness, have dramatically lower friction and longer wear in many applications. Test them yourself and you'll be a believer.