A well-known manufacturer of institutional food service equipment
Vollrath approached Orion with their plan to provide a non-stick coating on a line of their warming trays. The issue presented: The coating needed to withstand the extreme abuse seen in institutional use. As Orion Coated Warming Trays began development of a process, other issues presented themselves. Because of the type of stainless steel used, adhesion of the coating to the substrate was difficult to obtain; this required close monitoring of the surface profile of each of the trays.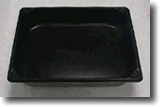 As part of the process, Orion provided the answer by developing an on-line station for 100% inspection of the surface profile. Discoloration of the uncoated exterior (due to the high temperature cures used) posed an esthetics problem. Orion answered by developing a post cure process whereby the uncoated stainless steel exterior would be returned to its original bright state. As each issue arose, Orion met the challenge.