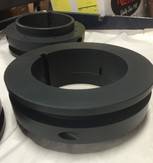 Orion Industries Ltd, in Chicago, offers a wide array of fluoropolymer industrial coatings, including PTFE coatings, each holding their own performance features for whatever your requirements and specifications may be. With our innovative application techniques and over 50+ years of industrial coating service knowledge, Orion is your best bet if you want to protect your parts, improve performance, or add to their longevity.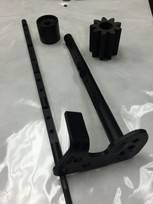 FluoroPlate TJ4-7676 is a black resin-bonded PTFE coating, low to medium gloss, dry film lubricant that adheres to most metals and some ceramics and plastics. It has a flexible cure cycle of 300F to 600F and is dependent on time. The coating carries a very thin dry film thickness of 0.0003″ to 0.0015." It has an excellent chemical resistance, low coefficient of friction, and one of the largest operating temperatures of any fluoropolymer coating with the range being -420F to 500F. It can be used on any wear surface to reduce friction, prevent scoring and galling, and provide secondary lubrication in the event of failure of the primary lubricant. These PTFE coating services are highly popular in the industrial and automotive industries because of the features previously listed.
Some typical applications are: valves, bolts, solenoids, springs, drip pans, bearings, sleeves, rotors, throttle shafts, saw blades and yokes. That is only a small sample of parts that will benefit from Fluoroplate TJ4-7676 as Orion has had continued success providing unrivaled quality in our service.