Glass Labware Coated with Teflon® Industrial Coatings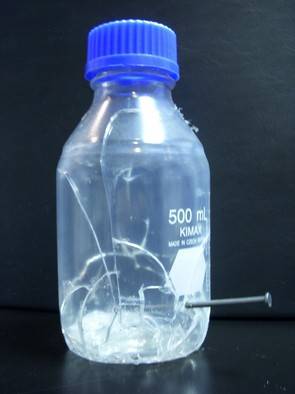 PTFE Coating Services Using FluoroGlass® for Labware
FluoroGlass® provides the ultimate in industrial Teflon® coating services to enhance glassware protection and safety. FluoroGlass® is a modified PTFE coating with the ultimate in glass bonding technology. FluoroGlass®provides virtually transparent optical clarity, flexible strength while containing broken glass fragments, chemical resistance, chemically inert to most acids, solvents and solutions. The Teflon® coating provides non-stick and easy clean characteristics, is autoclavable can withstand high use temperatures up to 500° F.
Items that are typically treated with Teflon® coatings with FluoroGlass® process include: beakers, columns, flasks, bottles, light bulbs, lenses, cylinders, and evaporators. Our industrial Teflon® coating service technology now protects food service, hospitals, warehouses, popcorn wagons, and an endless array of areas where a shattered light bulb or other glass can create an unsafe and dangerous situation.
Orion can make any coating Anti Microbial upon request.
Click here to view/download Orion's Anti Microbial Info Sheet.
Teflon® is a registered trademark of Chemours and is used under license by Orion Industries, Ltd.