Conformable Coating for Industrial Usage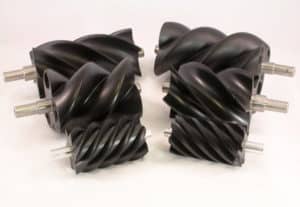 Controlling "Inner Space" creates the ultimate in air moving efficiency.
Conformable & Industrial Coating Purposes
Air moving devices require the closet tolerances to maximize efficiency. There are several types of these devices. Rotary screw air compressors and automotive belt driven superchargers all require extremely close tolerances for maxim output.
Orion Industries has developed a family of Conformable Coating materials and application technology to provide minimum clearances.
Click here to view a Machine Design Magazine article featuring DB L-908, this article can help explain the many benefits of DB L-908 technology.
Efficiency improvements ranging from 5% to 21% have been documented for:
Stationary, oil free air compressors
Stationary, oil wetted air compressors
Cryogenic gear pumps
Air motors, vane type (side of rotating components)
Hydraulic motor (sides of stator and ends or rolling elements)
Air locks and rotary feeders
Vaccuum pumps
The closest, surface-to-surface minimal or zero air gap is produced by DB L-908 industrial coating technology, with reasonably accurate machining tolerances. Final machine finishing can be eliminated by dimensioning rough machined parts and allowing .002" - .004" air gap per part or a .004" - .008" total clearance. The conformable capabilities of DB L-908 will close the air gap and provide a closer tolerance fit than any ground or machined three dimensional surface.
Orion can assist in the refurbishing of rotors and can apply DB L-908 over hard anodizing.
Test DB L-908 programs are readily available through Orion Industries. Orion Industries provides the tightest, closest tolerance "Inner Space" available.